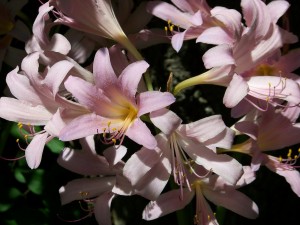 With the summer months ahead, like most Jasper homeowners, you're probably looking forward to spending time in your outdoor living spaces surrounded by a rich palette of blooms and greenery. Perennials are a gardener's favorite because they return every year to add splashes of color and texture to your yard's beds and borders.
Here are some basic perennial gardening tips used by Whispering Springs Nursery for you to apply in your own garden.
Layout
Perennials are commonly displayed together, either in large flower beds with long borders and firm boundaries or in a meandering form. Follow these landscape basics to develop your own home gardening design.
Scale — Keeping a sense of proportion between your home, fencing and other structures is key.  A large house, for instance, may do better with wide beds and tall plants, while a smaller home is better suited for small beds and low-growing specimens.
Home style — Larger or more imposing homes with strong lines and architectural elements require a more formal approach, while smaller bungalows or cottages need an informal touch.
Dress rehearsal — Using outdoor electrical cord, a garden hose, rope, or chalk, lay out the lines of your proposed garden in advance. Tweak your plant placement until you're satisfied, then make a rough sketch on paper to refer to on planting day.
Selection
Once your layout plan is complete, you're ready to choose your perennial plants. In addition to selecting plants for color and bloom times, keep these points in mind:
Height and width — Research your perennials' anticipated mature sizes to allow them enough room in your plan. Position taller-growing plants in the back of borders or in the middle of a center bed; plant smaller specimens near the front.
Variety — Diversity in the garden allows individual plants to shine while keeping the eye moving. Choose a variety of perennial forms from mound-formers to spiky accent specimens.
Area Appropriate — You'll save yourself a lot of time, money and effort by selecting plants that are clearly labeled as either shade-lovers or sun-lovers, and are matched to their soil and watering needs.
June is Perennial Gardening Month! We hope these tips on gardening for perennials will provide you with some ideas to get your garden or landscape ready for summer!
For more gardening information or answers to your landscaping needs, visit our store or our Facebook page!