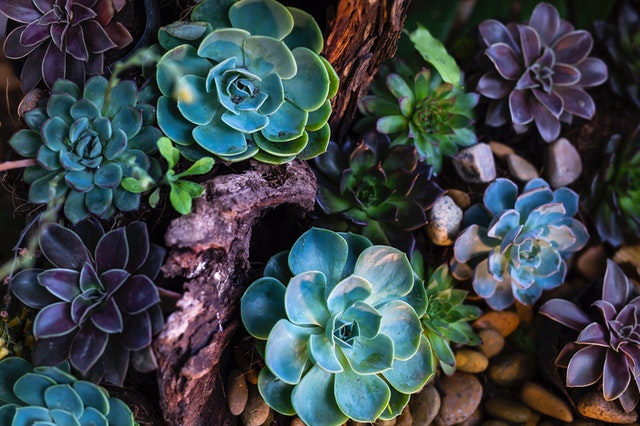 Succulents have been a big trend in the design world for several years now, and they don't seem to be going anywhere any time soon. In addition to their stellar visual appeal, they also have a reputation for being hard to kill, and succulent container gardens can survive quite a bit of neglect. After all, most succulent plants (aka plants with thick, fleshy forms that retain water) are from arid climates with infrequent rainfall. Their ability to store water for long stretches of time gets them through periods of drought, which is great if you're one of those people who can't remember to water your plants. 
However, growing succulents in containers isn't as foolproof as you might think, especially in a humid climate like Georgia's. If you're one of the folks who have managed to kill these "unkillable" plants, don't worry—you're not alone! Check out these pro tips to learn how to plant succulents in containers, and give us a call to order succulents for curbside pickup at Whispering Springs Nursery in Jasper, Georgia. 
How to Plant Succulents in Containers
Visit Instagram or Pinterest, pick up a home and garden magazine, or turn on the TV, and you've likely seen beautiful flower pots, planters, and containers of every variety overflowing with beautiful, healthy succulents. Succulent planters can range from a full-size clawfoot bathtub in a whimsical, country garden, to tiny succulent pot magnets on a city apartment refrigerator. But don't be fooled; not all containers work well with succulents. 
Pick the right succulent container
What you plant succulents in matters almost as much as how you plant them. Choose a container with good drainage. Succulents do not like for their roots to stay damp, so it's essential that you either select a container with drainage, drill drainage holes into the container, or if you really must use a container with no holes (say for a table centerpiece), you'll have to water extremely lightly and carefully to make sure you're not causing root rot. 
If your planters are outdoors, pay attention to the weather. If it's supposed to rain and any of your succulent planters are out in the storm, you'll want to move them under a shelter that will keep them from getting drenched. Too much rain can make the soil waterlogged and will rot your plant from the roots up. If you do notice that your succulent pot is full of water, be sure to tip it off so the planter has a better shot at drying out. 
The medium you plant succulents in matters too, so make sure you're not using straight potting soil, which tends to get soggy. Instead, you'll want to amend it with pumice or perlite, which both retain less water.
Give them their space.
While you can probably get away with growing some succulents indoors (aloe is a great starter plant), most of them will fare better outside. But don't just stick a planter full of succulents into the blazing Georgia sun. They need some shade, so a porch or patio that gets full sun (at least 6 hours of sun every day) will keep them happily sun-drenched without burning them.
Being selective about which succulents you plant together and where can also make a big difference. For instance, succulents that are pale in color, variegated, or solid green have lower sun tolerance, while succulents that are blue, gray, red, or covered in thorns have a better chance of surviving intense sun exposure. 
Low maintenance does not equal
no
maintenance. 
Just because succulents are some of the more "self-sufficient" plants you can grow in container gardens doesn't mean that you can completely ignore them. They do need water (just go easy on it) and occasional (as in once a year) fertilizer. Because they're full of water, you'll also need to keep succulent planters safe from freezing temperatures, usually by bringing them indoors for the winter. 
If you're interested in growing succulents in a planter, we'd love to help you design a custom creation! You can even bring us a planter you want to use, and we'll either plant it for you, or help you select the best plants to fit it. Contact us or give us a call at 770-893-254 to learn more!