Whispering Springs Nursery was established in 2000 by the Grno family in Jasper, GA. James Grno heads up our landscape division and brings with him his many years of custom carpentry and woodworking experience.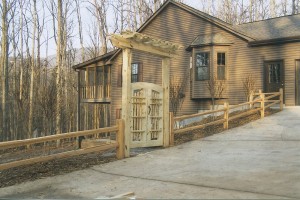 There is no landscape design project too big or too small for Whispering Springs and James Grno. We specialize in woodland gardens and great landscapes that blend into the natural environment, while adding to the beauty of your home, office, or neighborhood. As a skilled carpenter, James can build you something beautiful that brings your dreams to life. He has experience with arbors, pergolas, decks, fences, gates, benches, and screens.
Why Add Custom Woodwork to Your Landscape?
Adding a custom creating to your landscape makes your design one of a kind, and adds a dynamic element into your design. A bench allows you to interact with your landscape while you sit and enjoy a cup of coffee and watch the birds sing in the morning, or enjoy a book on a cool, Fall afternoon. Designing a pergola or arbor not only adds architectural structure to your landscape, but will also give your vines and roses something to climb on to show off their blooms. Fencing can be both serve a purpose of keeping animals in and/or provide a decorative accent to the border of your landscape or property line. Adding a deck to your home will improve the appearance of your house and will add a new entertainment space to your yard.
Have you been dreaming of a custom carpentry creation for your landscape? Call us at Whispering Springs Nursery in Jasper, GA and tell us about your ideas for your landscape. We'd love to help you come up with the perfect landscape design!