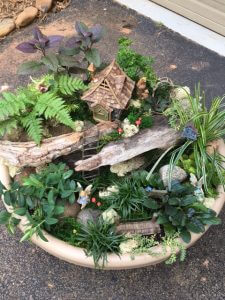 Nestled in the small town of Jasper, Whispering Springs Nursery is home to some of the most beautiful greenery and landscape designs in Georgia. But we're also a great garden center if you prefer to design your own masterpieces! One of our favorite things to watch gardeners design is fairy gardens. There are several different elements associated with these "magical mini-landscapes" that make them perfect for any home! They are visually attractive, creating a small community of plants and pots in your own yard. Beyond that, they are incredibly easy to create and upkeep. One concern that often accompanies gardening is the difficulty to keep it trimmed, tended, and visually attractive. Fairy gardens are a fun project for the whole family, and they're easy to design and maintain, even for kids!
Are you looking for the perfect gift for Mother's Day? Something thoughtful and creative that she can keep? Fairy gardens are a great gift for mom, providing a thoughtful gift, a new skill, and an opportunity to spend the weekend together as a family constructing your own magical fairy garden!
The wide selection of options provided by at Whispering Springs makes it's nearly impossible to create a visual clash. We have endless options of miniature fairy huts, tiny gardening accessories, and small scale plants to complete your fairy garden. You can choose from a variety of designs, colors, and plants that go along with the design of your real life home or garden.
As you continue to search for ideas and ways to revamp your yard and spend time with the whole family, visit to Whispering Springs Nursery. Swing by before Mother's Day to begin your family fairy garden adventure!