Container gardening has so many advantages, especially for a beginner. You can totally control the soil and water, protect your plants from bad weather if they're in a small enough container, and move it when you are ready for a change. And with a smaller space to care for, it's easier to keep track of all the little factors that go into successful planting. But where exactly do you start when you want to create a container garden?
First, make sure you pick the right container. Keep in mind that different plants will require different levels of drainage and ventilation, and select accordingly. Also keep an eye on the size of your container relative to your plants–you don't want them to feel cramped!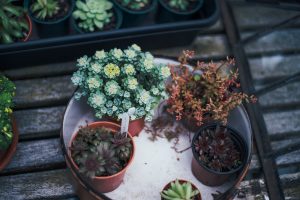 Make sure you also pick the right conditions for your container garden: just like any garden, you want to make sure your plants get the right amount of sun or shade, the best soil composition, and correct water and fertilizer mixtures. Whispering Springs can help make sure you know what your plants need!
If you're going to mix plants for the fuller appearance of a more traditional garden, look for plants that thrive when planted together. Whispering Springs in Jasper, GA has a huge selection of flowers and herbs that thrive in North Georgia. We can help you select the best plants and either plant them for you, or help you plant them in your own container.  
Come by our beautiful nursery in Jasper, GA and let's talk about the kind of container garden you want to create!