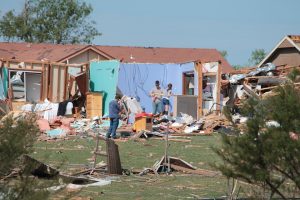 Sometimes it takes a natural disaster to bring out the best in people. And after Hurricane Harvey flooded out the Gulf coast of Texas last week, we are seeing Americans come together as one to help good people who have lost everything.
At Whispering Springs Nursery, we wanted to step away from our usual blog postings to let our customers know how they can be most effective when donating to hurricane victims in Texas. Donating what you can for those affected by the floods in Houston and the surrounding areas can make a huge impact. Even if you can only give a small donation, every bit helps. Mothers will be able to feed their babies, families will be able to stay together in a safe, dry space with warm food, and even the hardest-hit communities can start to rebuild.
If you're curious about which organizations you can donate to for the greatest impact, have a look at the list below.
Boys & Girls Clubs of Greater Houston: Donations can be made directly through their Facebook page or by clicking here. The Boys & Girls Club of Houston has opened its doors to people left homeless after the storm. Your donation goes directly to supplying the shelter with food and water.
Hurricane Harvey Relief Fund: Houston Mayor, Sylvester Turner, established this fund to make sure your monetary donations are used to directly benefit those who were hit hardest by the storm and flooding in Houston.
United Way Relief Fund: The United Way of Greater Houston provides immediate necessities like water, food and dry shelter. They also work to make the long-term recovery manageable.
If you are interested in finding out how else you can help from afar, give the Whispering Springs team a call in Jasper, Georgia at 770-893-1254 today.