With Halloween just around the corner and Thanksgiving and Christmas coming up after that, everyone is thinking about home decor. While it's fun to shop for new and interesting things to decorate for the holidays, don't overlook one of your primary sources of inspiration: your garden!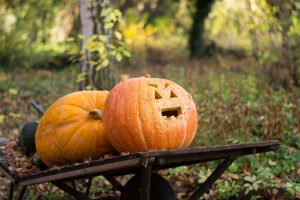 Here are some ways to decorate your garden for Halloween:
Garden Graveyard!

A collection of headstones will look creepy, but also mysterious and pretty. You can easily buy fake headstones anywhere Halloween decorations are sold, but you can also carve them out of

styrofoam

if or make them out of sturdy cardboard (of course, remember that cardboard isn't waterproof, so rain or dew will damage it).

Add Some Monsters!

If you want to make your garden graveyard scarier, add some zombies or ghosts. You can make ghosts out of chicken wire and cheesecloth (make sure you wear gloves, as chicken wire can cut your hands). Zombies are a little trickier, but they can also be purchased at many Halloween stores. Even just mannequin hands or stuffed gloves sticking out from a "grave" can look really spooky.
Don't forget to bring in items from your garden to decorate your home! Aside from the assortment of fall flowers available at Whispering Springs Nursery in Jasper, GA, you can make beautiful seasonal bouquets out of fall herbs, fallen leaves, and dead branches. Spray paint branches black, orange, and purple to add a little bit of Halloween color!
Here at Whispering Springs we love decorating for all holidays! Come down to our nursery and let's talk about how to put together beautiful decorations for your landscape.