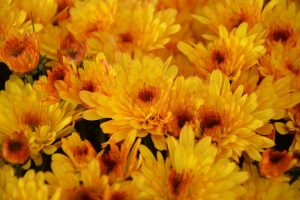 At Whispering Springs Nursery we love the landscaping options that come with cooler weather. The air is pleasant this time of year, which allows you to get outside and work in your yard for hours without heat and humidity dragging you down. If you've thought about adding some new features to your yard, now is the time.
Planting evergreens, hedges, and shrubs – November is a perfect time to add some new greenery. We carry many species of evergreens here at Whispering Springs that will add life to your property during the cold months of winter. Plus, planting now will give your new shrubs a chance to establish strong roots before it gets too cold.
Make Your Own Mulch – Raking up dead leaves is essential and beneficial to your lawn. Leaving leaf litter unattended can suffocate your grass, leaving you with a lawn full of dirt and dead grass come spring. Placing your leaves in a mulch bin for the winter also gives you organic and decorative weed-suppressing mulch for your spring planting.
Lower Your Mower Blade – Cutting your grass a little lower than usual during the cold months allows the soil to get moisture more easily in the spring (when it needs it most). Your grass will grow much slower over the winter months and you may only need one or two more trims between now and spring. That means that prepping the right way now is vital.
Add Some Fall Color! – Last but not least, there are a ton of great fall annuals you can plant to add some amazing color to your lawn this fall. At Whispering Springs Nursery, we have a huge selection of fall plants and flowers such as mums, pansies, and ornamental kale!
For more information about what you can do for your yard this fall, give us a call or stop by our nursery in Jasper, GA today!