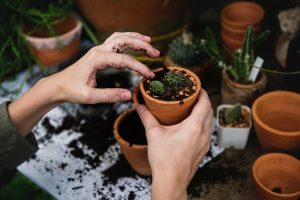 It's fitting that National Gardening Month and Earth Day fall in the most beautiful month of the year: April. Buds are blooming, bees are buzzing, and the transformation of winter to spring is almost complete.
There are several ways you can celebrate this amazing month. Here are a few ideas:
Purchase Plants at Whispering Springs Nursery
What better way to celebrate Earth Day than getting out your gardening tools and planting new additions? At Whispering Springs, we have a nursery that hosts an abundance of trees, shrubs, perennials, annuals, and more that you can choose from. Even better, the plants you purchase are perfect for the mountainous area in which we live. You can rest assured that the additions you buy to beautify your lawn will last a very long time.
Take Part in Your Own Earth Hour
On the last Saturday of March, thousands of cities across the world celebrate Earth Hour. During this hour, non-essential lights are turned off in an effort to raise awareness about what man-made technology is doing to our planet. But, you and your family could do this monthly! Get your kids excited about different ways to create light such as hosting a bonfire or lighting candles.
Get Your Kids Involved
With technology in the forefront of most kids' minds, it's good for their soul and body to go outside and play. Fresh air does wonders for a person's health – children included. You can even use this opportunity to teach them about Earth Day, its importance, and different ways to celebrate it every day of the year. To get them extra interested, tell them fun facts about Earth Day such as:
The celebration began in 1970.
Roughly 20 million people took part in the first Earth Day.
Recycling-related jobs account for over three million jobs in America.
If you're searching for high-quality, one-of-a-kind plants to transform your lawn this spring, visit Whispering Springs Nursery. Contact us today with your questions.