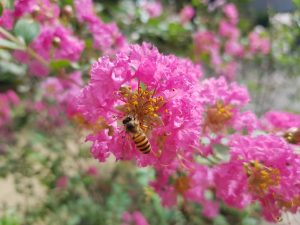 National Honey Bee Awareness Day is August 18th. Celebrate by doing your part to help stop the global decline of bees.
Bees are responsible for pollinating a huge percentage of the food we eat. They also help control many pests that destroy crops. Unfortunately, global bee populations are declining at an alarming rate. A major factor to this decline is mass lost of habit. Thankfully, there are a lot of things you can do to help make your yard and garden bee-friendly!
Plant Pollinator-Friendly Plants
One of the most important ways to help bees is by adding flowering plants to your yard. There are lots of beautiful pollinator-friendly flowering plants that can give bees back a little of their lost habit:
Crape Myrtle – This beautiful non-native ornamental is attractive to both bees and people!

Coral Honeysuckle – This lovely ground cover is perfect for adding a bit of color to your space and bees love it.

Cethra – This a shrub with gold foliage. It's known to attract butterflies and hummingbirds in addition to bees.

Flowering Quince – This plant grows 4 to 6 feet tall and boasts a beautiful red flower.
Other Ways to Help
Of course, there are other things you can do to help. Buying local raw honey and organic produce helps. So does leaving out water for your bees. Incorporating a birdbath or small water feature into your yard can give bees a much-needed spot to rest and re-hydrate.
Ready to make your yard or garden more bee-friendly? Then contact us today at 770-893-1254 to let Whispering Springs Nursery help you select the pollinator-friendly plants that are right for your home. Our plant nursery, landscape design, hardscaping and softscaping, and landscape maintenance services can help you realize the potential of your outdoor spaces.