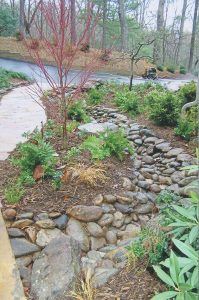 Living in North Georgia, we're lucky enough to enjoy the stunning natural beauty of the woods and mountains every day. When it comes to landscaping your North Georgia home, you can embrace that same beauty with woodland gardening. Read on to learn what woodland gardening is, as well as some woodland gardening ideas from the North Georgia landscaping experts here at Whispering Springs Nursery.
What is woodland gardening?
Woodland gardening is all about creating outdoor spaces that blend into the surrounding natural habitat. Rather than stark divisions between woods and lawns, geometric shapes and straight lines, and identical, carefully shaped plantings, woodland gardening offers a more organic, natural look.
This approach to gardening is not only aesthetic, but also functional. When choosing plants for a woodland garden, opt for native shade plants that will thrive in the shadow of the surrounding trees. There are also many native plants that are resistant to those pesky deer, and a good woodland garden design will take that into account.
Ideas for woodland gardens
Embrace the seasons. Clever landscaping will ensure that your yard looks beautiful throughout the entire year, not just in springtime. Planting a mix of evergreens, flowering shrubs, bulbs, and other plants with year-round interest will give your garden a dynamic, yet always beautiful, look.
Work with what you have. Rather than fighting the existing environment, go with the flow for a natural look that also requires less maintenance. Woodland landscaping often takes into account the falling of leaves, either allowing them to remain as they fall, or for a neater look, the ability to collect and shred the leaves before re-applying as mulch.
Less is more. Part of the beauty of woodland gardening is its simplicity, accentuating what is already there, rather than fighting against it. Just a few thoughtfully-chosen plantings or a stone-lined dry creek bed can polish the look of your yard.
At Whispering Springs Nursery in Jasper, Georgia, we specialize in landscaping to fit your home and the North Georgia environment, including woodland garden design, deer-resistant plant selection, and shade plant selection. Visit our nursery or contact us online to learn more about our residential landscaping services!