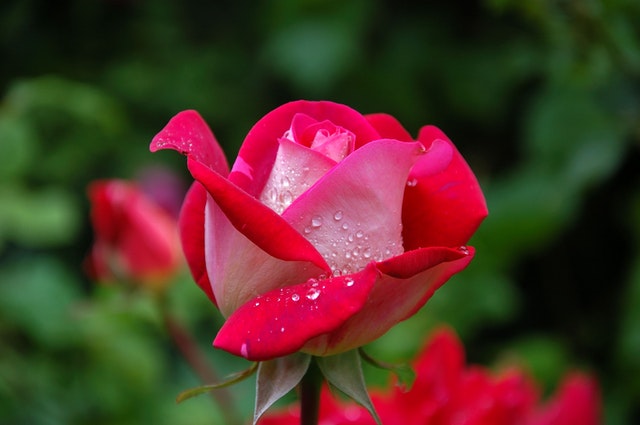 The rose holds a special place in our culture, evoking love, romance, and elegance. But roses aren't just common motifs of art, music, and literature; they're also show-stoppingly gorgeous additions to your garden! 
Roses come in a profusion of colors and sizes, from delicate miniature roses to fragrant magenta "knock out" roses, to stunning, richly-colored hybrid tea roses. If you'd like to plant a cutting garden to supply your home with fresh flowers, or just want to add a few pops of vibrant color to your landscaping, read on to learn how to plant roses and visit our Jasper garden center and nursery to find the best rose bushes for your garden. 
How to Plant Roses
Set the stage.
When selecting a place to plant roses, it's important to take into account how much sun and shade the spot gets. For most roses, you'll want to plant in a location that gets 6 or more hours of full sun per day and has well-draining soil. If you have a swampy, perpetually damp area of your yard, that's not the place to plant your rosebush.  
Pick your roses.
Certain varieties of roses are hardier than others in various climates, so look for roses that are rated for your region. We're happy to help you pick the best rose varieties for your yard, so contact us if you have any questions! 
When buying roses, look for strong canes (the main branches of the rose bush) and healthy buds. If the canes have started sprouting offshoots or the plant looks shriveled, choose another. 
Start planting!
If you're planting a bare root rose, dig an 18" square hole and mix your compost of choice into the soil, forming a small mound. 

Place the rose on the mound of soil, and spread the roots out around it. 

Make sure the "bud union" (aka the knobby part between the stem and roots) is just barely above ground level. 

Fill the hole back up around the roots and lightly pat the soil into place. Give your rose bush a nice, deep watering.

Planting a potted rose is almost the same, but you'll typically need to excavate a larger hole—about twice the width of the root ball and six to eight inches deeper than the container.  
Remember, we're here to help with all of your gardening and landscaping needs, so give us a call! We're always happy to answer questions and share expertise with our customers to help you achieve the landscaping of your dreams.