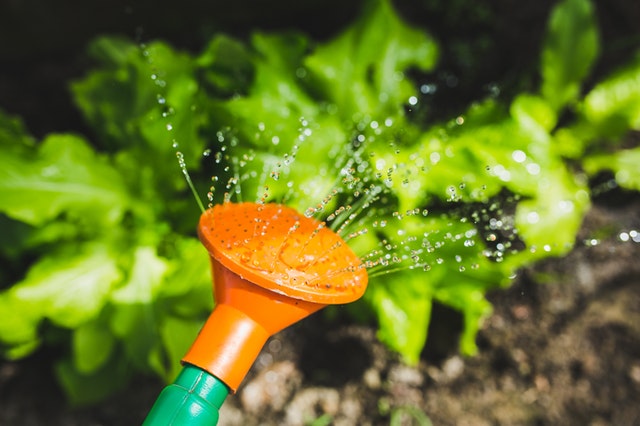 We've already had some sweltering days this summer, and it's not even the hottest month of the year! (That would be July, if you're wondering.) It's one of the most challenging times to keep your landscaping lush and healthy, but we've got some water saving tips that can help. Keep reading to learn how to save water while irrigating your North Georgia garden or lawn. We can even help you choose the best drought-resistant native plants to accentuate your woodland landscaping. 
Water Saving Tips for Summer in Georgia
The Metropolitan North Georgia Water Planning District has some great, detailed resources to help you water your landscaping more efficiently, but these are some of the most important tips to remember:
Know
when
to water.
Water early in the morning (before sunrise) or late at night (after sunset) to avoid wasting water through evaporation. Every drop counts, and watering during the cooler hours will not only save water, but also helps prevent lawns from falling victim to fungus or blight. 

When rain is expected, turn your irrigation or sprinkler system off! Automated sprinkler systems are the biggest culprits for wasting water. 

Only water when you need to—at the first signs of "moisture stress." According to the NGWPD, the signs include wilting, dullness or discoloration. Another good way to tell if your lawn is thirsty is with the foot-print test. If you walk across your grass and the footprints are still visible after several minutes, your lawn needs water. If the grass springs back into position after a few minutes, you can wait a bit longer. 
Know
how and how much
to water.
The turfgrass varieties most commonly grown in North Georgia (Bahia, Bermuda, Bluegrass, Fescue, Zoysia) are fine with just

one inch of water per week

. 

One of the particularities of keeping a healthy lawn here in Georgia is that we have a lot of clay in our soil. That famous Georgia clay makes the soil less absorbent, which means that it doesn't soak water up as quickly as other soils. In order to let the water from your irrigation system absorb and not just run off into the gutter or storm drain, you'll need to make sure that you're not delivering more than ½ inch of water per hour.

Not sure how quickly your sprinklers deliver a ½ inch of water? Place an empty tuna can or other similarly sized container in each section of your yard, and let your sprinklers run for 30 minutes. Measure the depth of the water with a ruler and use that to determine your watering rate, or how long you'd have to let your sprinklers run to water 1 inch. 

Adjust your automated system accordingly, or set timers on your phone to help you stay on track. You'll not only be conserving water, you'll also be saving on your water bill. 

For flowers and other plantings,

water at soil level

. This wastes less water through evaporation, gets more water to the roots quicker, and can even protect your plants from developing fungus on the leaves.
Happy watering, and remember to call our North Georgia plant nursery to learn which plants are right for your yard.