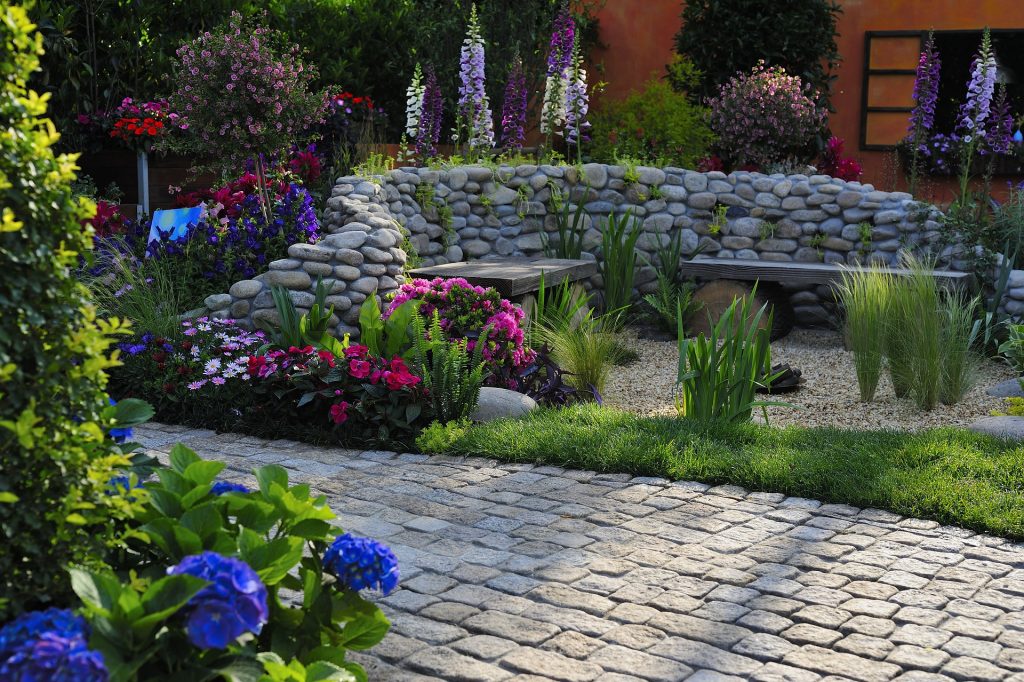 The joy—and the challenge— of landscape design lies in the individuality of the site. No piece of land is exactly identical to any other, even in the same neighborhood. Every landscape has its own relationship to the local ecosystem, with specific soil, drainage, sunlight, wind, wildlife, and other factors affecting the finished product. At Whispering Springs, we're passionate about this type of landscape design, which is why we specialize in native woodland landscaping and deer-resistant landscaping in North Georgia.    
Of course, while every setting is unique, there are some elements of good landscape design that are universal. Be sure to consider these elements when planning any renovations to your lawn or garden… Or just give us a call at 770-893-1254 to learn how we can help!
The Challenges of Landscape Design
First and foremost, remember that landscape design has to work on multiple levels.
From a distance—approaching your home from the driveway, for instance, or looking at the view outside your window.

Moving through it—how you move from patio to garden, from garden to lawn, etc? Are the

pathways

made of gravel? Stone? Cement? Are they straight or winding? What does the landscaping look like from different vantage points throughout your property?

Up close—once you enter the landscape, what catches your eye? What details hold your attention? 
The best landscape design is interesting and attractive all year long thanks to careful plant selections and design choices. From luscious blossoms in the spring to sculptural stems and seed pods in the winter, landscape design requires an in-depth knowledge of horticulture as well as design. 
Key Elements of Excellent Landscape Design
Line
The lines of your landscaping have an enormous impact on the overall effect. This can include the shapes of planting beds, walkways, water features—anything that draws your eye through the space of your yard. 
Straight lines, geometric forms, and symmetry all contribute to a more formal landscape. Alternatively, curving edges, winding paths, and organically-shaped planting beds create a casual effect. 
Color
There is much more to using color in landscape design than just choosing a few bright flowers. Color affects the mood of your landscaping, helping to set the ambiance and direct the eye where you want it to go. A monochromatic palette of various shades of purple can create a calming atmosphere, while a highly contrasting color pairing like orange and yellow is more forceful and attention-grabbing. 
Remember that flowers are not the only colors you should be concerned with. After all, flowers bloom, die and fall off eventually. What does the foliage of your plantings look like in the lush, muggy summertime? Will the leaves stay green, or turn to gold, red, or orange? If you need some inspiration, check out these landscape color scheme ideas.
Texture
Again, think about texture in your landscape design from a distance—the contrasts between a short lawn, ruffled treetops, flowering shrubs, ornamental grasses—and up close—the bark of a tree, the leaves of a hedge, the slate of a stepping stone path. 
Focal Point
Of course, no landscape design is complete without at least one focal point. A focal point is an area that draws your eye and holds your attention. This could be an ornamental tree, a piece of art, a water feature, or a garden structure like a pergola. The focal point can also change depending on the season or time of day. Landscape lighting is a powerful way to direct the eye and highlight specific features of your garden. 
If you're feeling inspired to give your landscaping a new look, we're here to help! Contact us to learn more about our landscape design, installation, and hardscape services, or place an order from our nursery for curbside pickup.