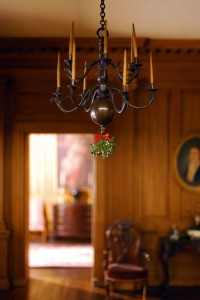 Have you ever actually been kissed under the mistletoe? Have you ever wondered where this little holiday tradition originated from? Today, Whispering Springs Nursery has the facts on mistletoe's origination. Make sure you don't forget to string up some of the stuff before the big day next week!
With over 1,300 species across the world, there are only 2 species of mistletoe that grow in the US.
The direct translation of mistletoe is not as romantic as its story. Translated directly in Anglo-Saxon it literally means "dung twig."
The tradition of stealing a smooch under the mistletoe is proposed to be of Greek descent, as the believed that the plant has the power to give life and bestow fertility.
In the 18th century, the English began using mistletoe in beautifully decorated Christmas balls under which a lady could not refuse to be kissed.
If a lady found herself standing under the mistletoe and did not receive a kiss, the story goes that she would spend the next year unmarried.
Mistletoe is an essential part of healthy forest ecosystems.
It's toxic to people! But, the leaves and berries are a source of high-protein food for many animals.
The tradition of mistletoe kissing has no connection with the religious history of Christmas.
Not to be confused with holly, mistletoe has thin, rounded leaves and white berries.
Whispering Springs wants to know, do you plan on getting kissed under the mistletoe this holiday?