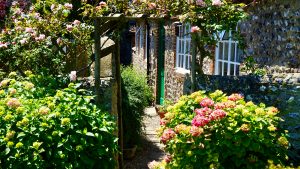 The random bouts of cold weather have officially subsided, and the warm weather has finally arrived. Spring and summer are two of the best seasons of the year because it's backyard season! All of your TLC during fall and winter will show as flowers start to bloom and trees stretch their branches.
If you are looking to add an extra touch of beauty to your yard, we can help. Here are a few of many ways we can help beautify your outdoor space:
Landscape Design
Do you want to transform your yard into a backyard oasis? Through our landscape design and installation, our team can do just that. You can choose from a variety of options – lighting systems, hardscapes, and softscapes are just a few of many. We can even plant more trees and shrubs, if needed, to add more dimension and color to your future oasis.
Yard Maintenance
Yards, just like our homes and vehicles, need regular maintenance to keep them in prime condition. Our professional team members can prune your shrubs and small trees to ensure optimal growth. If you have planting beds, we will remove leaves and weeds that threaten to choke the seasonal plants. Additionally, if you have ponds or water features, we will maintain and clean those areas.
Water Features
To add extra oomph to your oasis, allow us to install a water feature to enhance the look of your property. Our expert team members work with your current lawn to ensure the new feature blends well with what is currently there. Beautiful hardscape options you can choose from include waterfalls, ponds, rock gardens, dry creek beds, and drainage creeks.
At Whispering Springs Nursery, we take pride in beautifying the beautiful mountain land in which we live. If you'd like to beautify your landscape, contact us today.