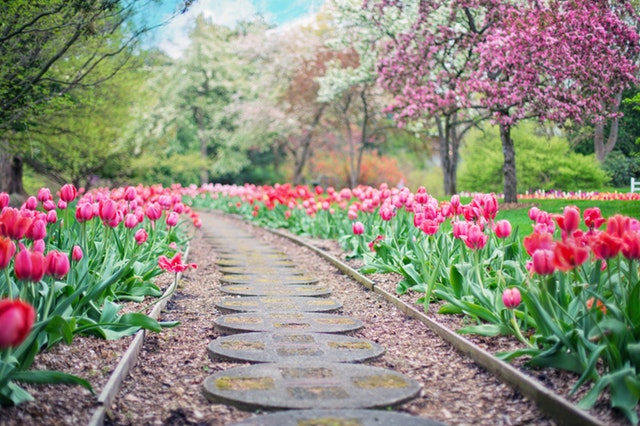 Spring has arrived in all its glory here in North Georgia, and it's truly one of the most beautiful times to enjoy your own backyard. If you're looking for ways to give your garden a spring refresh, check out these gardening ideas from Whispering Springs Nursery in Jasper, Georgia.
Spring Gardening Ideas for North Georgia
Plant perennials.
Perennials are plants that go dormant during the winter, but come back to life each year (as opposed to annuals, which die out during the winter and have to be re-planted the following year.) There are many beautiful perennials that can be successfully grown in Georgia, like begonias, hostas, bachelor's buttons, chrysanthemums, delphiniums (aka larkspur), daylilies, irises, black eyed susans, and many others. Check out the University of Georgia Extension's guide to flowering perennials to explore the possibilities, or visit our nursery to see what catches your eye.
Build a haven for wildlife.
One of the greatest joys of a beautiful garden is getting to watch the birds, bees, and other wildlife that visit. Consider planting a pollinator-friendly garden or adding bird-friendly features like feeders and baths.
Grow your own food.
There's never been a better time to grow your own food, and you might be surprised at how easy it can be to start your own little "farm." These days, even a patio or balcony garden can produce a steady stream of veggies thanks to compact dwarf varieties of tomatoes, green beans, carrots, and more.
Another great way to supplement your diet with homegrown foods is to plant an herb garden. Thyme, basil, mint, oregano, sage, and parsley are some of the easiest herbs to grow and pack a punch of flavor that will take your dishes to the next level.
Create areas for relaxation.
It's not enough to just look at your landscaping through the window; to get the full benefit of your outdoor spaces you need to go outside and enjoy them! Whether you build a luxurious outdoor dining room or just place a lawn chair under a shady tree, it's worth it to create a space for relaxation so you can soak up the sights, sounds, and smells of nature.
Plant a tree.
Someone once said, "The true meaning of life is to plant trees, under whose shade you do not expect to sit." Planting trees not only adds beauty to your landscaping, but also leaves a legacy for others to enjoy long after you're gone. Trees add color and visual interest to your landscaping, but they can also provide privacy, shade, wildlife habitat, and help clean the air! No matter how big or small your outdoor spaces may be, we're here to help with softscaping and landscape design in Jasper.