Thanksgiving brings to mind two things for us here at Whispering Springs Nursery in Jasper, GA – turkey and Christmas trees!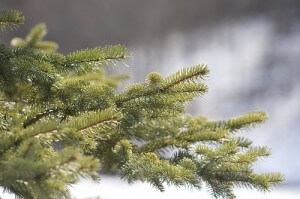 We are ready for you to come by on Friday after Thanksgiving and pick out your family's Christmas tree. While we don't carry the traditional frasier firs, we've got something even better. Our Christmas tree lot is full of Norway Spruce, Deadora Cedars, and Hemlocks all with root balls wrapped in burlap. We think that the best way to do Christmas trees is by adding them to your landscape after the holiday is over. If you're going to pay upwards of $100+ for a tree that will loose all of its needles in just a few short weeks, why not pay for a tree that will be beautiful for years to come?
When you pull up to Whispering Springs Nursery you may notice that our entire landscape is peppered with Hemlock trees. That's because for years we had the family tradition of buying a live, ball and burlap, Hemlock that we potted and decorated as our Christmas tree. After all of the presents had been unwrapped, the ham was eaten, and the kids were happily playing with their toys, we all gathered outside and chose a special place to plant our tree. This way, we were able to remember that Christmas for years to come as the hemlock grew and became a beautiful addition to our landscaping.
Start a new family tradition this year, and purchase a live Christmas tree from Whispering Springs Nursery in Jasper, GA! We can't wait to see you after Thanksgiving!